Care Freight International is one of the leading Pakistanies independent international NVOCC forwarder and logistic operator. It's main business is focused on worldwide sea, air and road transportation.

CFI is your global partner when it comes to import and export of goods, customs brokerage, customs clearance, freight forwarding, sea-freight, air-freight, and logistics in and outside of Pakistan. CFI, in association with the prestigious worldwide freight forwarders, is fully committed to diligence and dedication in creating high standards in customer service....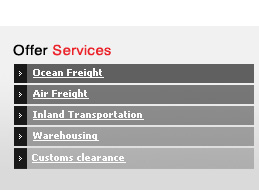 Ocean Freight :

We provide one-stop service from selecting appropriate liner and shipping schedule, booking space, arranging trucking or cargo stuffing, handling customs clearance,, preparing documentation and providing latest information, etc.. We have developed solid business relationship with major shipping companies and other key players throughout the chain, which enables us to obtain space or facilitate the process, even under difficult situations. Be it Less-than-Container-Load (LCL) or Full-Container-Load (FCL), you can always count on our highly skilled team who will exert all efforts to fulfill your requirements in terms of pricing, transit time, service or any other special requests.

Air Freight :

Time is everything. Clearly understand why valuable time must not be lost, we care about your merchandise as much as you do. Our dedicated team carefully monitors each link of the chain, so that your merchandise arrives as safely and as quickly as possible. With years of experience in the field, we have gained a reputation of being able to meet tough deadlines and solve difficult business cases.

Warehousing :

We go to great length to make sure that your merchandise is being handled with special care. From storage, cargo stuffing (FCL and LCL) to marking and repacking, plus any other special requirements as demanded, we keep track of each detail to ensure reliability and visibility of your merchandize throughout the process.

Customs clearance :

Our experienced professionals can arrange customs clearance with superior efficiency. Thanks to our extensive network and insight knowledge about the process, we can often facilitate fast clearance through customs so that your processing runs smoothly and swiftly.

Inland transportation :

We can provide inland transportation that can deal with any trucking and distribution that you might require. With safety and efficiency on top of the priority list, we ensure that your merchandize arrives safely at the right place, at the right time.